05/09/2019
How to Celebrate Women's Health Week
This year, May 12-18, is Women's Health Week. This week is a time for women to focus on their health and start taking proactive steps towards building a more positive lifestyle. Emphasizing health is a lifelong process and making it a top priority is not always easy. This week is all about developing habits that seamlessly fit into your daily routine and discovering what works best for you.
One important topic of discussion this week is heart health. Since heart disease remains the number one killer of women over 35, we have compiled a list of healthy living tips to help you reduce your risk of heart disease and also promote your overall health during Women's Health Week and beyond.
Exercise Daily
Getting at least 30 minutes of daily exercise is a great way to promote heart health, boost energy levels, and even increase your overall mood. With so many activities available in your area or simply in the comfort of your own home, exercise doesn't have to be a chore. Celebrate this Women's Health Week by finding a physical activity you love and can stick with. Whether it is power walking, yoga, cycling, or even dirty dancing, the options are endless.
Drink Plenty of Water
It can be challenging during a busy day to remember to drink enough water. However, making sure you stay hydrated is an essential part of your overall health. Water is vital for your brain, mood, body weight, and even heart function. Be sure to drink enough water by keeping a water bottle with you wherever you go. Or, if you have a sweet tooth, try to replace at least one soda or sugary beverage each day with water.
Make Healthy Food Choices
Sugary, fatty and salty foods can have a huge impact on your heart health and overall well-being. Limiting your sodium intake can have an especially powerful effect on blood pressure, which is why cutting out processed foods is highly recommended. And with so many delicious, healthy options available, making the switch to nutritious meals does not have to be difficult. Take time this Women's Health Week to find healthy snacks you love and try out some new recipes. Consider making a flavorful Mediterranean rice dish with salmon, whole grain pasta with fresh vegetables and feta cheese, or baked rosemary chicken with a cup of fresh fruit.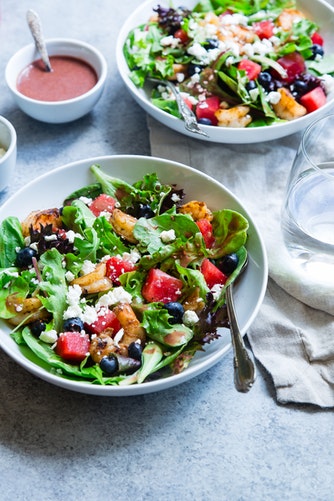 Control Cholesterol
High cholesterol does not have obvious symptoms, but it can increase your risk for other heart conditions, particularly heart disease. Make sure you understand the difference between healthy and dangerous cholesterol levels, and what the best ways of managing them are. There are also different types of cholesterol, so it is important to do research on your own and also speak to a doctor about how to best control them.
Don't Ignore Your Mental Health
A healthy lifestyle goes far beyond physical health. Managing your state of mind is another important part of any woman's health journey. That means managing stress, anxiety, depression, and other mental health conditions that may arise. Exercise, meditation, counseling, aromatherapy, or simply spending more time with friends and family can all help alleviate stress. There are also many prescription options available for those who need it, and there is no shame in speaking to a medical professional to learn more.
Get Enough Sleep
Like food or water, sleep is a vital aspect of life. Chronic sleep deprivation can hinder your cognitive ability, immune function, memory, behavior, and even your heart health. In fact, not getting enough sleep can even lead to cardiovascular disease. Adults should try to get at least seven hours of sleep every night, and children range from 8.5 to 13 hours minimum.
Visit Your Doctor Regularly
Finally, a crucial part of any woman's health journey is to schedule annual appointments with her doctors. This Women's Health Week is the perfect time to book an appointment and start the habit of annual screenings. Contact your nearest CVG and start making your health a priority today.