03/27/2020
Recovering After Your Heart Attack: Changes and Adjustments to Make
Understanding what to expect after having a heart attack is crucial for avoiding further injury and ensuring that the healing process is safe and efficient. Most people survive their first heart attack and go on to live happy lives afterward, but heart attacks are serious medical events that have a lingering effect. For many, heart attacks indicate the presence of underlying health issues that need to be addressed through medical procedures or positive lifestyle changes. Here is what you need to know about recovering from a heart attack.
How Long Does it Take to Recover?
Your doctor should be your first point of consultation after a heart attack, as the time it takes to the body to heal after a heart attack varies from person to person based on the health of their heart and overall physical fitness. Most people will spend between two days and one week in the hospital after a heart attack, to facilitate recuperation and observe that the patient's condition stabilizes. The risk of death in the coming month after a heart attack is recorded to be four times higher than life before the heart attack occurred, and for this reason, it's important to cooperate with medical professionals to avoid putting unnecessary stress on the body.
When Can You Resume Normal Activity?
It's important to consult with your doctor at the point where you feel well enough to resume regular work or engage in exercise. Depending on whether your heart attack included a surgical procedure, it might not be safe to engage in high levels of activity without a doctor's consideration. Depending on your job, it might not be safe to start work again right away. If your job is very physical, you might have to seek alternative employment during the healing process or ask for shorter hours and less physical tasks until your doctor concludes that your heart can handle the physical activity. When it comes to exercise, it's important to sign up for a cardiac rehabilitation program once you've left the hospital. These programs monitor blood pressure, heart rate, and heart regularity during exercise, to ensure that you don't experience any further injury.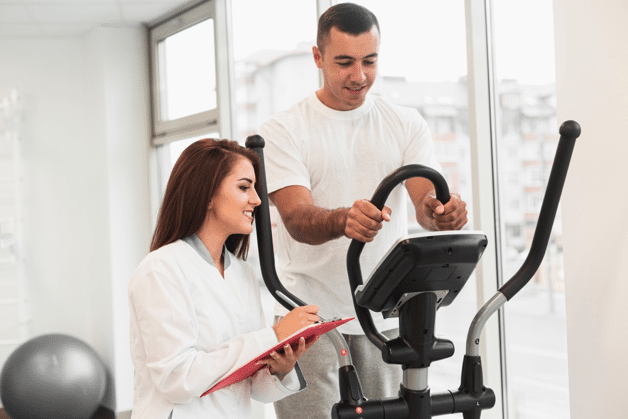 Mental Health is Just as Important
Having a heart attack can be a large source of stress, and it's normal to experience moments of fear, depression, anxiety, or denial after you've experienced one. Your doctor is a great person to talk to, even regarding the emotional stress of a heart attack. Many cardiologists have years of experience to offer as advice for anyone feeling lost after a heart attack, and can help you get in touch with a mental health specialist if you have trouble finding the service that you're looking for. Having family nearby is important for keeping your spirits up, and they can be helpful in avoiding overstrain during the first few weeks of healing. Your cardiac rehabilitation program can be helpful as well, putting you in contact with a network of patients and professionals that you can share your experience with.
What Sort of Life Changes Will You Need to Make?
You should explain to your doctor what your ordinary life is like at home. Having a heart attack at home can be especially dangerous if you're alone, so if you spend a lot of time by yourself, your doctor might advise you to research medical alert systems, which can help ensure you get the help you need in any situation. It's likely that your doctor will address the underlying causes of your heart attack, and make a road map for increasing your health in the future, including tips for a new healthy lifestyle. These will likely include new diets, and carefully monitored exercise regimens, which can improve your heart health.
Understanding your personal metrics for cholesterol and blood pressure will be critical for avoiding further heart trouble, and checking your records for what your blood pressure was like leading up to your heart attack can help contextualize what you'll have to do to maintain a healthy range. If you smoked tobacco prior to your heart attack, it's likely that your doctor will tell you to quit, as smoking is a large risk factor for heart disease.
Keep in Contact with your Medical Professional
Seek advice from your doctor about lowering your cholesterol and blood pressure. They can also offer good advice on how to create a new, heart-healthy diet, or direct you to resources that can help you quit smoking safely if you need to. If you'd like to speak to one of our experienced cardiologists about life moving forward after a heart attack, please don't hesitate to call us at 770-962-0399, or visit our website at: www.cvgcares.com.