08/25/2020
The Dos and Don'ts of Exercising With a Face Mask
When you leave the house these days, you probably think to yourself, "phone, keys, wallet… face mask." Masks are essential in keeping you and those around you safe by reducing the spread of COVID-19. In today's world, face masks are needed for practically every activity where you might come into contact with another person; this includes the gym. But how do you get the most out of your workout (and remain safe) while wearing your face covering?
Below, we'll go over how wearing a face mask affects you, plus what to do and what not to do while wearing a mask during your daily dose of exercise.
Why Wear a Mask During Exercise?
Masks are recommended by the CDC and other healthcare professionals to help stop the spread of COVID-19 in shared spaces. Many scientists have also been studying the benefits and adversities of donning a mask during exercise. Cedric X. Bryant, the president and chief science officer of the American Council on Exercise, found one's heart rate will likely increase 8-10 beats per minute while wearing a mask, but that would only be noticeable during high-intensity exercises. An informal study at the University of New Mexico also found that some people may experience dizziness upon exertion. On the bright side, the more you exercise with a mask on, the more your body will be used to reduced oxygen levels while you work out, meaning when this is all over and you can ditch the mask, you will be an unstoppable powerhouse!
While wearing a mask may seem slightly unpleasant, you're still encouraged to wear one to avoid potentially spreading any infectious particles throughout an indoor environment. People suffering from any pre-existing respiratory conditions—such as COPD, asthma, cystic fibrosis, chronic bronchitis, pulmonary fibrosis, or any other condition affecting their heart and lungs—could be at a higher risk of adverse effects and should consult their physician before attempting to exercise with a face mask.
Ultimately, as long as you consult your primary physician and monitor how you're feeling throughout your workout, you should be fine to exercise while wearing a mask.
To Do or Not To Do
OK, so now you know the potential effects of sporting a face covering while being active, but let's break it down a little more.
Here is a list of "dos and don'ts" recommended by scientists and athletes: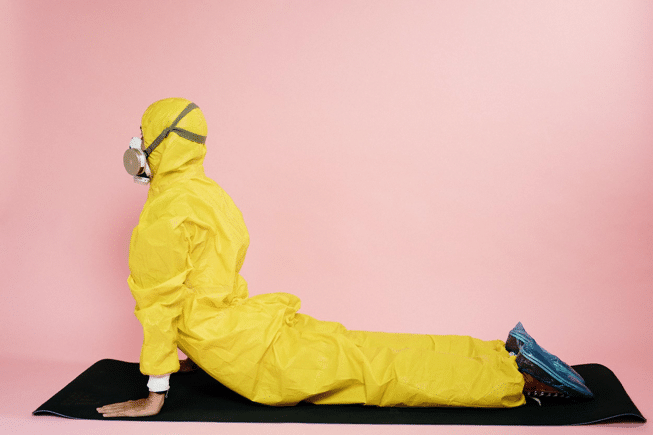 Avoid the Gym Altogether
If you're more comfortable staying away from the gym during this time, you're in luck. There are still plenty of ways to achieve your health and fitness goals.
Here are some unconventional ways to get fit and stay safe:
If you're immunocompromised, it's best to avoid public spaces and limit your exposure. If it's unavoidable, use the CDC's recommended precautions when going out to prevent yourself and those around you from contracting and spreading this disease.
Looking for more information or ideas on how to maintain your healthy lifestyle? We're here to help.